International Musical Meeting in Roncobello (Bergamo-Italy)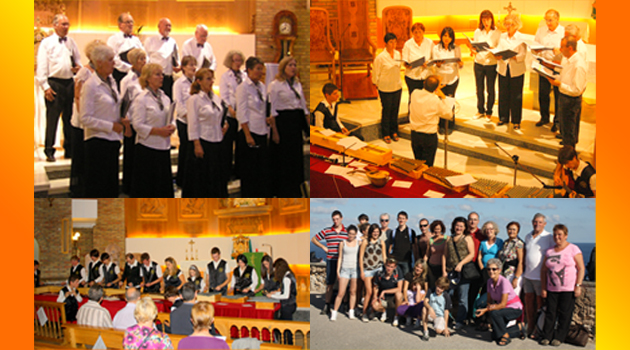 CHORALE International Choir from Pilar de la Horadada (Alicante-Spain) will be on tour in Roncobello, a picturesque village set in the high valleys of Bergamo, from 23rd to 25th July 2011. Three events will attract the attention of locals and tourists flying off the big heat wave affecting Milan town and roundabouts. The first event will take place on Saturday 23rd July in Roncobello church at 6 p.m. on occasion of the Holy Mass. CHORALE will perform religious songs and Marian hymns in honour of the local Patroness Mary Mother of the Holy Rosary. On Sunday 24th July CHORALE and Coro della Scuola Campanaria di Roncobello (Roncobello Bell Ringing School Choir) will perform in St. James's church, a 18th century religious building in the small village of Bàresi (two kilometres south of Roncobello). Roncobello local choir will host the Anglo-Spanish friends after giving a concert with its young ringers in Pilar de la Horadada church in October 2010. The venue for the concert in completed by a lovely ancient porch which was mainly used to sheltered local parishioners in the past centuries who gathered the Holy Mass in bad weather. As it has regularly happened once a year since 2002, the singers and the audience will get together after the concert for refreshments, food, wine and singing popular songs.
On Monday 25th July CHORALE and Scuola Campanaria di Roncobello (Roncobello Bell Ringers) will sing at Saint Margaret's church in Trabuchello a tiny village in the side valley placed between steep slopes and a romantic river. The evening will be marked by an alternating succession of religious songs and traditional tunes performed on campanine (local folk xylophones made of glass, metal and brass bars on which bell ringers practice ancients melodies that are performed on rough carillon keyboards set in the bell chamber on Christian festivals and Holy days).
CHORALE is a very interesting experiment of making music with expert singers coming from Northern Europe (notably England, Sweden and Holland) who usually spend half of the year in Spain while Summertime in their own original countries or in colourful villages of the Italian Alps. Such is the case of Miss Helen Baines Clayworth, a retired English teacher living in Bàresi who joined Roncobello Choir four years ago as a brilliant soprano. Last year she managed to organise a wonderful trip to Spain for Roncobello ringers and singers, who are now looking forward to welcoming her friends for an ever more international musical meeting in the heart of Bergamo mountains.
All the events will be regularly introduced by bell ringing concerts on behalf of the local bell ringing school.
For more info please contact Mr. Luca Fiocchi at luca.fiocchi@libero.it